Laser cutting provides many advantages over waterjet and plasma cutting. It's generally quicker, cleaner and more precise. It saves money by using less energy and generating less material waste.
The laser's precision simplifies projects with complex details and tight tolerances, no matter how large or small. Learn more about Mid-Atlantic Steel Fabrication's custom laser cutting services below.
Metal Laser Cutting Services
As the name suggests, laser cutting is the process of vaporizing a material with a laser. It produces a cut edge and an intricate design. Laser cutting can be used on a variety of materials, including metal, wood, plastic and glass. Many industries depend on laser cutting to optimize production efficiency and precision, including:
Automotive

Electronics

Heating, ventilation and air conditioning (HVAC)

Metal fabrication

Medical devices

Packaging

Printing

Woodworking
Do you need custom laser-cut steel or aluminum for an upcoming manufacturing project? MA Steel Fab can provide the quality, efficient solutions you need.
Our Precision Laser Cutting Process
A relatively newer method, precision laser cutting uses a computer to direct a high-power laser at a piece of sheet metal, such as steel or aluminum. After you input a design into the computer, the machine guides the laser to burn, vaporize, melt or blow the material away with a jet of gas. The result is the desired shape and pattern, along with a smooth, beautiful surface finish.
We use the TRUMPF TruLaser 3030 at MA Steel Fab. TRUMPF is a global market leader in industrial laser cutting systems. Its products raise the bar for quality, reliability and productivity.
One of the company's newest laser equipment innovations, the CO2 based TruLaser 3030 has numerous automation capabilities and is simple to operate and maintain. Our investment in this advanced technology lets us cut small to large batches of laser–cut parts quickly, cleanly and precisely. 
We're priced competitively, and we stand behind every part we produce with quality, service and on-time delivery. Our cutting capabilities include mild steel up to 1 inch, stainless steel up to 1/2 inch and aluminum up to 3/8 inch. The TruLaser 3030 can handle cutting sizes of up to 60 x 120. Here are some other notable benefits of this equipment:
High-quality results: The high-powered laser jet can seamlessly produce complex, intricate shapes. It doesn't damage or distort the material or leave behind burrs during the cutting process. The CO2 laser yields incredibly smooth edges that usually don't require post-processing.
Safety and eco-friendliness: The machine carries a low risk of operator injury and doesn't produce any harmful byproducts.
Flexibility: The TruLaser 3030 is highly versatile, letting us complete an array of projects with high efficiency. We can easily input changes into the computer and adjust the production process as needed.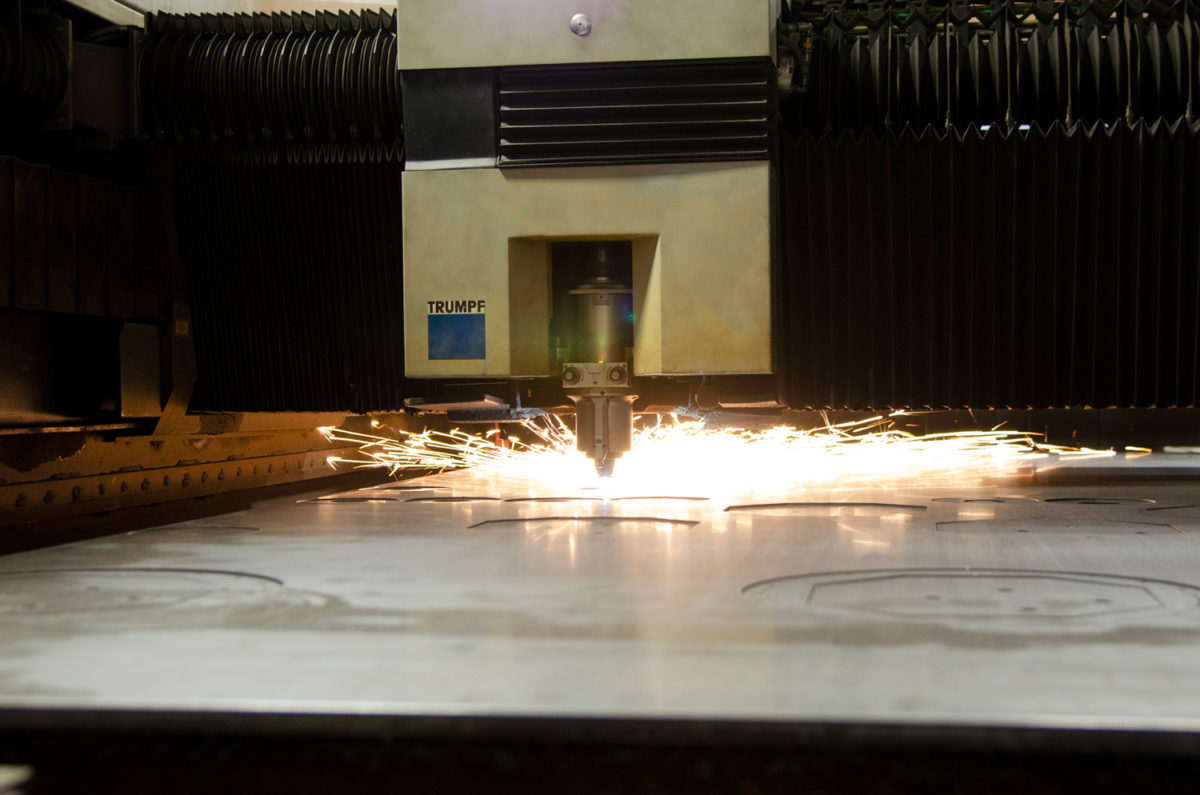 Our Laser Cutting Shop in Pennsylvania
As an experienced laser cutting company based in Lancaster, Pennsylvania, MA Steel Fab can deliver the customized services your projects require. We group batches of parts together, get your order into production quickly and make the best use of your raw materials.
Our laser cutting technology handles a wide range of cutting tasks over many unique applications. From prototypes to high-volume production, we can do it all. With our fully automated system, we provide skilled laser cutting services to machine and steel fabrication companies in the Mid-Atlantic region. We serve Pennsylvania, New York, New Jersey, Maryland, Delaware and beyond.
Are you looking for laser cutting services in this region? View our recent work to see if we're the right company for the job.
Start Your Custom Laser Cutting Project Today
MA Steel Fab is your one-stop shop for all your metal fabrication needs. Besides laser cutting, we also offer welding services, CNC forming, 3D CAD design, powder coating and more. We can handle all your requests in one place, from simple and low-volume to complex, high-production projects.