Transform your custom welding projects into reality with Mid-Atlantic Steel Fabrication. We're a trusted source for custom welding and fabrication for businesses and homes throughout the region.
Custom Welding Services
When your project calls for custom welding services, you want a partner who specializes in providing them on time, within budget and to precise quality specs. Mid-Atlantic Steel Fabrication is the ideal answer, with the skills, capabilities and experience to deliver. Our team can help with projects like these:
Piping

Decorative elements

Frames 

Railings, catwalks and stairs

Supports

Product components produced to tight tolerances
Our custom welding services offer value to your residential or commercial project in many ways, including:
Increasing a property's visual appeal

Reducing a product's weight

Providing structural support

Boosting property safety and security
Welding and Fabrication Capabilities
Our custom fabrication capabilities go beyond welding. If you can envision a piece of custom metalwork, we can make it happen. We work with homeowners, architects, engineers, business owners and contractors to bring bespoke projects to completion. From hand-forged railings to CNC-machined components, we can tackle it under one roof. Each project benefits from personalized attention to ensure we meet your needs for professional quality and the required specs.
Our fabricators are D1.1 Structural Certified, so you can enjoy peace of mind about the integrity of our results. Our combined expertise allows us to provide a wide range of complementary services, including design and engineering support to finishing.
Our Precision Welding Process
No matter your project specs, Mid-Atlantic Steel Fabrication can meet your custom welding needs with industry-leading people, equipment, capabilities and materials.
Our Expertise and Equipment
At Mid-Atlantic Steel Fabrication, we offer MIG (metal inert gas) and TIG (tungsten inert gas) welding services backed by quality equipment. MIG welding is ideal for heavier-gauge materials and larger pieces. It forms a solid bond between joints quickly, easily and cost-effectively. TIG welding is known for producing visually appealing welds on lighter and thinner materials with precision and skilled craftsmanship.
Our experienced welders pride themselves on attention to detail and are AWS-certified and trained to meet both industry and our customers' specifications.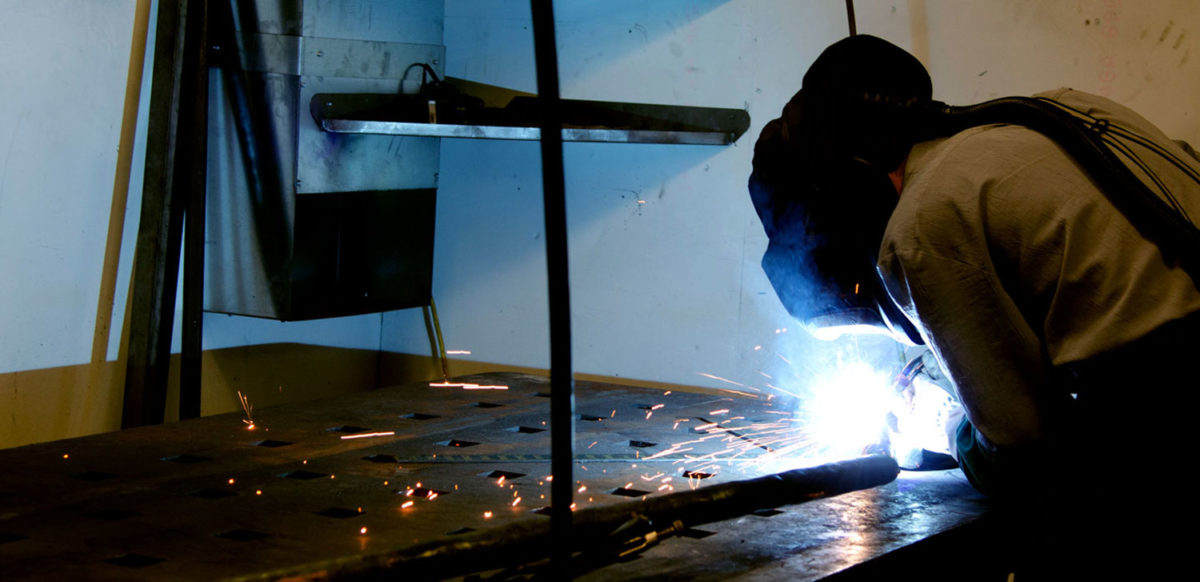 Our Capabilities and Materials
We can accommodate single-part or high-volume production runs, and we can handle a range of material thicknesses — from thin-gauge sheet metal to heavier structural plates.
The material types that we commonly work with include:
Stainless steel
Carbon steel
Aluminum
We also provide skilled precision welding services for brass, bronze, copper and COR-TEN steel.
Professional Custom Welding Services Near You
When you want exceptional welding services near you in Pennsylvania and beyond, look no further than Mid-Atlantic Steel Fabrication. We're proudly based in Ronks, a friendly community in Lancaster County. Our facility lies within the heart of the Keystone State and near its crossroads. This centralized location allows us to efficiently serve customers throughout the Commonwealth, plus those in New York, New Jersey, Delaware and Maryland. 
We also work with customers outside the immediate region and can arrange shipping to most destinations in North America.
Get Started at Our Welding Shop
Mid-Atlantic Steel Fabrication is your one-stop solution for all your welding and metal fabrication needs, saving you time and money. We're committed to delivering superior quality and professional service that exceeds expectations. Our team handles projects of all scopes and sizes with a history of successful results.
Let's discuss how we can help bring your creative vision to life — call us at 717-687-7313 or request a custom quote online today.
Ready to Start Your Welding Project?
For more information on our welding services, fill out our form.